Razorlight's Johnny Borrell enjoys rockstar Moto Guzzi holiday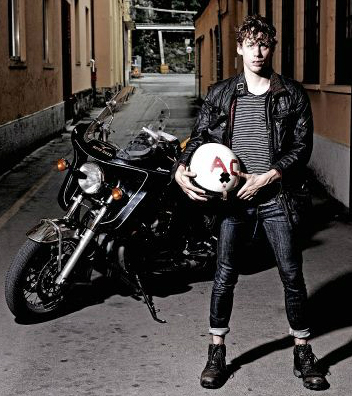 Johnny Borrell – the frontman of indie rock band Razorlight – owns not one, but two Moto Guzzi California Vintage models. The reason why he bought the second one is an interesting story involving the Italian police, a Parisian Moto Guzzi dealer and his visit to the Moto Guzzi factory in Mandello del Lario...
Here's how it happened, in the words of Moto Guzzi's Daniele Torresan: 
"The story begins when Johnny arrives at the entrance to the Moto Guzzi factory in Mandello del Lario, on his well travelled and luggage-laden California. He's dressed like a typical wildcat Guzzi fan, a black leather jacket and Dr. Martens boots on a skinny Mick Jagger-like frame, but without the rebellious air of damnation of the Rolling Stones singer.  
"Johnny, who looks younger than his 30 years, is less a bad boy from Muswell Hill than a pleasant, courteous young man with a real passion for the Eagle brand. He examines, observes and touches the bikes, new and old, and asks about forthcoming developments. In short, He's a normal Guzzi devotee with no trace of the spoilt star. 
"We take a few photos and say goodbye, promising to keep in touch. He calls the next morning and tells us, in a subdued voice, that he's in a little trouble:  the previous night the Bologna city police confiscated the bike's registration certificate because he was riding without a helmet. 
"Johnny doesn't want to waste any of his precious riding holiday and asks us to help him find a new California Vintage he can buy in Paris or London, where he is a resident. No sooner said that done, we find a black 'Cali' at a dealer in Saint Ouen L'Aumon, twelve miles outside Paris. 
"We tell Johnny the good news, who leaves his room at the Grand Hotel Baglioni immediately to catch a flight to Paris. The next morning, he is already at the door of the dumbstruck dealer, luggage and money in hand, to take possession of his new California Vintage. 
"A happy ending we think, but the next day he phones us again - has he got himself embroiled in some other strange situation we wonder? - No, he's calling to say he's back in Mandello del Lario to get his 1,000km (the distance between Paris and Mandello) service done, having done the journey non-stop in just one day!
Return to the previous page
Other News
---
What are the advantages of the Piaggio Ape? Diesel. Fuel efficient at 36km/l. 4- ...
---
---
---